Global Affairs
Covid: Boris Johnson confirms new three-tier alert system, with Liverpool 'very high'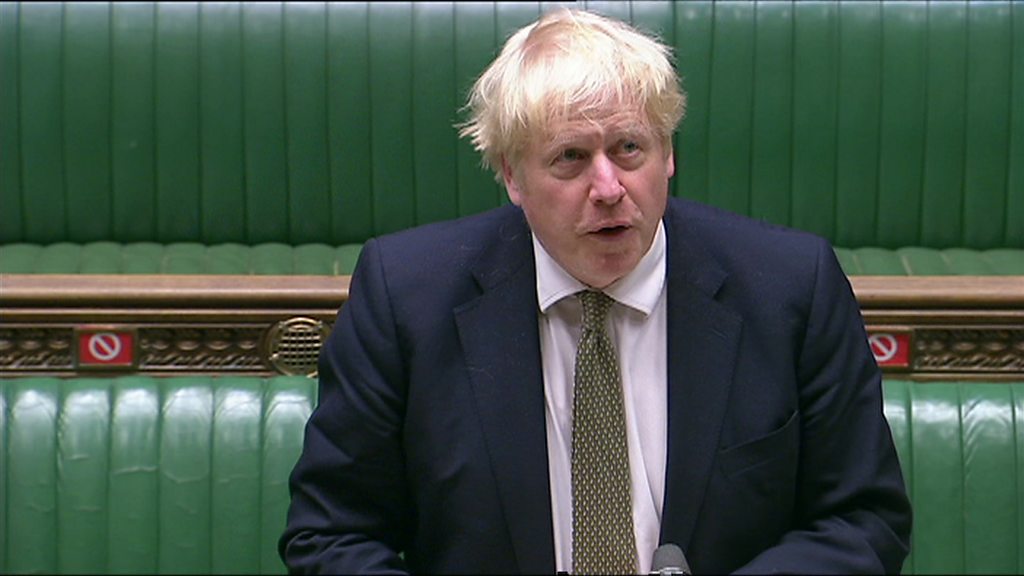 The Liverpool City Region will be on the "very high" Covid alert level from Wednesday, Boris Johnson has announced.
Confirming a new three-tier lockdown system, the PM said pubs, bars and betting shops will close on Merseyside.
Most areas of England will be on "medium" alert, with measures like the rule of six, but areas with local restrictions on household mixing are automatically on "high" alert.
The PM said all retail outlets, schools and universities will remain open.
It came after England's deputy chief medical officer, Prof Jonathan Van-Tam, said growth in Covid cases was a "nationwide phenomenon" and that "things are heating up" in areas beyond northern England.
The new system is split into three alert levels: medium, high and very high. Most areas in England are in the medium alert level – meaning current restrictions continue, including the 10pm hospitality curfew.
Areas already under additional local restrictions are automatically in the high alert level – meaning bans on household mixing indoors are extended to include hospitality venues.
The Liverpool City Region – home to 1.5 million people – becomes the first area to enter the very high alert level, with the closure of pubs, bars, betting shops, gyms, leisure centres and casinos. Household mixing will be banned anywhere indoors and in private gardens.
Restaurants can continue to trade in very high alert areas – and pubs and bars which can operate as one – but people will be advised against travelling to and from these zones.
Go further or gone too far?
Some will say ministers should have gone further, while others argue they have already gone too far.
But the problem with the restrictions that are being discussed is that no one really knows what impact they will have.
Closing Covid-secure pubs, for example, could just drive people to gather more in homes, where the risk of transmission is even greater.
The other factor, which is not grabbing the headlines at the moment but is just as important, is whether the test and trace system is up to the job.
Test results are taking too long to return, contact tracers are failing to reach enough of the close contacts of infected individuals and even when they do most people do not follow the isolation guidelines to the letter.
Infections, hospitalisations and deaths are certainly going to rise. By how much and for how long is the big unknown.
Certainly with better treatments in place and the UK in a stronger position to protect care homes – four in 10 deaths were among their residents in the first wave – many believe the toll should not be as great as it was in the spring.
Boris Johnson told MPs restricting interactions between people would save lives and help prevent the NHS being overwhelmed.
Speaking in the House of Commons, he said "This is not how we want to live our lives but this is the narrow path we have to tread between the social and economic trauma of a full lockdown and the massive human, and indeed, economic cost of an uncontained epidemic."
The PM said around £1bn of "new financial support" will be provided to local authorities in England, adding: "For very high areas, we will give further financial support for local test and trace and local enforcement – and assistance from the armed forces, not for enforcement but rather to support local services if desired in the local area."
It was announced earlier that the NHS Nightingale hospitals in Manchester, Sunderland and Harrogate – built during the first wave of the virus – have been told to get ready once more.
Labour leader Sir Keir Starmer said: "The question today is whether the restrictions announced by the prime minister can bring the country back from the brink."
Analysis
By Ellie Price, political correspondent
As he introduced the new three-tier system for England, questions and criticisms came at Boris Johnson from all sides and highlight his challenge.
Since March, Labour Leader Keir Starmer has lent his broad support to government restrictions. But in the Commons he accused the PM of being "several steps behind the curve" and questioned whether the measures "can bring the country back from the brink."
There were numerous questions on whether the government could be more generous in its financial support for businesses affected.
And from Conservative MPs, some said individuals should be left to make their own decisions, while others saying tougher measures need to be imposed now.
Labour mayor of Liverpool Joe Anderson told the BBC "we agree with the government having to impose tougher restrictions" but that an argument for a stronger financial package for the city "wasn't listened to".
Sturgeon to draw up 'three-tier' lockdown system
Second national lockdown considered for Wales
The three-tier alert system applies only to England, with the devolved administrations in Scotland, Wales and Northern Ireland in charge of designing and implementing their own coronavirus restrictions.
A further 13,972 confirmed coronavirus cases were reported on Monday, with 50 more deaths within 28 days of a positive test recorded.
Do you live in the Liverpool City Region? Do you work in the pub and hospitality industry? What would you like to ask our experts? Email [email protected].
Please include a contact number if you are willing to speak to a BBC journalist. You can also get in touch in the following ways:
Source link