Global Affairs
Opinion: Marjorie Taylor Greene's Holocaust comments aren't just vile. They're dangerous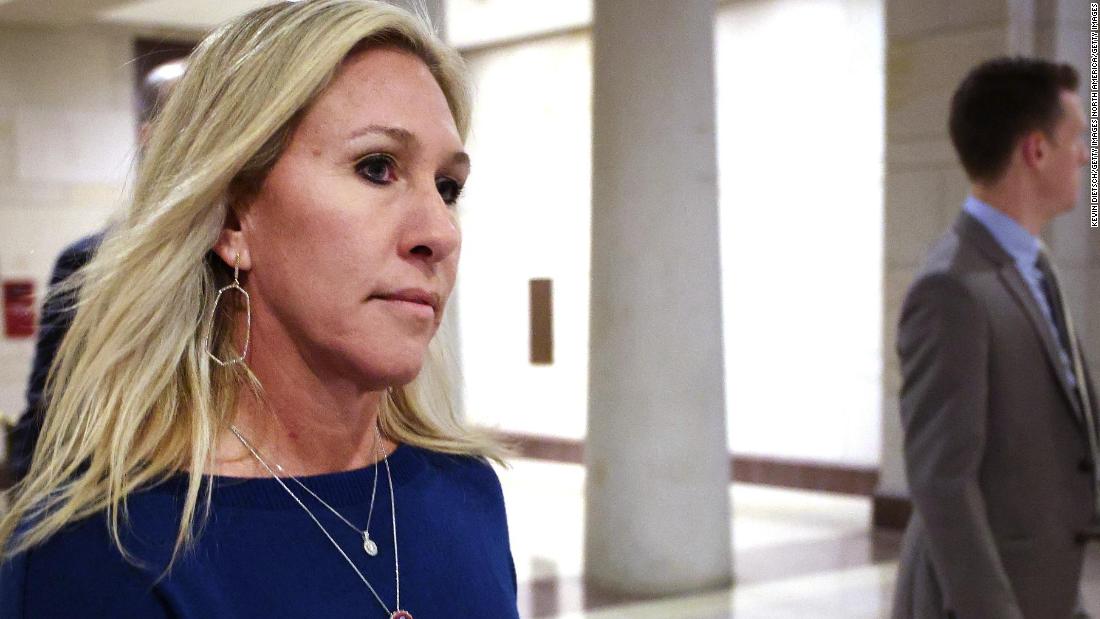 While many of Greene's bigoted comments, such as calling the election of two Muslim women to Congress in 2018 an "Islamic invasion of our government," occurred before she was elected to Congress, her vile belittling of the horrors of the Holocaust by suggesting they were similar to House Speaker Nancy Pelosi requiring members of the House to wear masks on the floor of the chamber are more dangerous because she made them as a member of government. Earlier this week, Greene jaw-droppingly declared on a conservative podcast, "We can look back at a time in history where people were told to wear a gold star, and they were definitely treated like second class citizens, so much so that they were put in trains and taken to gas chambers in Nazi Germany." Then she added: "And this is exactly the type of abuse that Nancy Pelosi is talking about."
The American Jewish Congress immediately slammed Greene's remark and called for an apology, stating that health-related restrictions can never be compared with yellow stars, gas chambers and other Nazi atrocities. "Such comparisons
demean the Holocaust
& contaminate American political speech," the organization said in a tweet.
Greene, however, is refusing to back down. "I stand by all of my statements…I said nothing wrong," she told an Arizona reporter after she and GOP Rep. Matt Gaetz held a rally in the state that perpetuated Donald Trump's Big Lie that the 2020 election was stolen from him. Greene's alarming repetition of Trump's falsehood, along with her previous targeting of minorities, seems to be drawn from the Trump playbook. That it's dangerous can be seen in the undeniable data showing a documented spike in hate crimes during Trump's time in office. And his incitement of the Jan. 6 act of "domestic terrorism," as FBI Director Christopher Wray described the attack on our Capitol, was predicated upon that Big Lie.
It's impossible to know exactly why Greene invoked the Holocaust — besides perhaps a need for attention at any cost. But Greene's defense of these comments is potentially a dangerous demonization of Jewish Americans who don't agree with her views. "I stand by all of my statements…I said nothing wrong."
Greene then alarmingly added, "I think any rational Jewish person didn't like what happened in Nazi Germany, and any rational Jewish person doesn't like what's happening with overbearing mask mandates and overbearing vaccine policies." Greene is now telling her supporters that "rational" Jews should support her views, meaning only irrational Jews would be concerned by her comments that demeaned the Holocaust. You don't need to be an expert on demonization to understand how this could result in more vitriol by Greene's supporters directed against Jews who continue to denounce her comments.
Greene can't be dismissed as a lone wolf bigot. She has a large network of supporters, as evidenced by her astonishingly raising over $3 million in campaign donations in just the first three months of the year. (In contrast, New York Rep. Alexandria Ocasio-Cortez raised only $726,000 in her own first three months in office.) Adding to concerns is the recent alarming rise in anti-Semitic hate crimes arising from the fighting in the Middle East between Hamas and Israel.
This is not the first time Greene has made bigoted comments about Jews or furthered dangerous anti-Semitic tropes. Earlier this year, Greene suffered a backlash when her 2018 Facebook post came to light where she claimed the deadly wildfires in California were caused by a laser from space that was possibly controlled by the Rothschild investment bank. As the Times of Israel noted in January, "suggesting that the Rothschild family is conspiring to cause damage for profit is a longstanding anti-Semitic conspiracy theory, and one that is baked into the QAnon mythology." (Greene defended this post by incredibly saying she hadn't known the Rothschilds were Jewish.)
Greene also peddled another anti-Semitic trope that received less attention but is potentially even more dangerous. As the Times of Israel detailed, in 2018 Greene shared on Facebook a video advocating the White nationalist "Great Replacement" theory that "falsely alleges that Jews are conspiring to undermine White-majority countries by bringing in non-White immigrants." This toxic conspiracy theory appears to have helped fuel the 2018 attack by the White nationalist — a man who posted messages that Jews were helping to transport members of migrant caravans — charged with the tragic murders of 11 Jews in Pittsburgh's Tree of Life Synagogue.
A number of House Republicans have slammed Greene's latest remarks. Rep. Liz Cheney, who was recently removed from her House GOP leadership position for calling out Trump for continuing his Big Lie, slammed them as
"evil lunacy."
But by Sunday morning, House GOP leader Kevin McCarthy was still silent. When Greene was involved in another controversy in February, he issued a statement that he "unequivocally" condemned her past comments on "school shootings, political violence and anti-Semitic conspiracy theories," saying that they "do not represent the values or beliefs of the House Republican Conference." He did not, however, join the 11 House Republicans who voted with Democrats to remove her from her committee assignments.
It's time for the GOP leadership to denounce Greene's despicable words in one loud voice to make it clear there's no place for anti-Semitism or any other form of fearmongering of minorities in America. Given the stakes, any Republican leader who stays silent in the face of Greene's continued bigotry must be viewed as complicit.