Global Affairs
Fire-and-rehire: What is it and why is it controversial?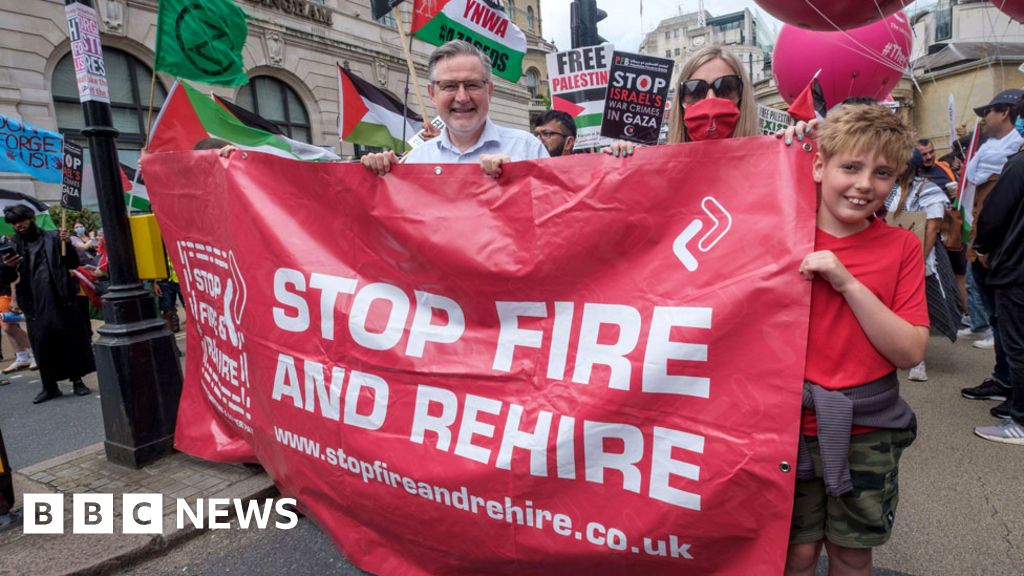 By Ben King
Business reporter, BBC News
During the pandemic a number of big businesses have tried to dismiss some of their workers and hire them back straight away – on worse deals.
Unions and opposition politicians want this practice to be banned.
What is fire-and-rehire?
Employers sometimes want to change the terms and conditions of their workers.
Each case is different, but employers might want to reduce their pay, or reduce holiday allowances, change shift patterns – even reduce the breaks they are allowed.
This will often happen when a company is losing money and needs to cut costs to stay in business.
Normally managers would negotiate with trade unions or workers' representatives to try to reach an agreement.
If they can't reach agreement, employers sometimes dismiss the affected workers, and offer to hire them back on the same day – under new terms and conditions.
It's controversial because it presents workers with a stark choice – accept worse terms and conditions which you said "no" to before, or lose your job.
Why is fire-and-rehire in the headlines now?
Fire-and-rehire has been happening for decades, but the controversy about it has become more intense following the pandemic.
Many companies have lost business because of Covid, and some are using fire-and-rehire to reduce the amount they spend on their workers.
Len McCluskey, the leader of Britain's largest trade union, Unite, has called it "a disease that is ripping through our workplaces".
High-profile disputes about alleged fire-and-rehire tactics include:
Has fire-and-rehire become more common?
A survey of workers by the Trades Union Congress in November found that 9% of workers had been told to reapply for their jobs on worse terms and conditions since March 2020.
And a survey of employers in February found that nearly 3% of them had dismissed and rehired staff on new terms in the previous year.
Many of the people the researchers spoke to said they felt the practice was becoming more common, not just among big companies, but smaller employers too.
Some said more companies are turning to fire-and-rehire early in negotiations as a threat, rather than at the end of the process when all other options have failed.
Can fire-and-rehire be fought in the courts?
Fire-and-rehire is not illegal, but employers have to follow a long process, formally consulting workers and unions and observing set notice periods.
If it is not followed correctly, employers open themselves up to legal challenges through employment tribunals or the courts.
Employees and unions can also challenge a fire-and-rehire process on the grounds that it is not done fairly – for example, if some groups of workers get better treatment than others.
Will fire-and-rehire be banned?
Labour, the SNP and the Lib Dems have called for fire-and-rehire to be banned by law.
Boris Johnson has also said that firing and rehiring is "unacceptable as a negotiating tactic" – but the government does not plan to make it illegal.
Earlier this month government minister Paul Scully said there were times when employers needed to use it as a last resort, and without it they might have to make workers redundant or go out of business altogether.
However, he said that the issue could be addressed "without heavy-handed legislation".
How does fire-and-rehire affect my long-service rights?
Many employment rights only start after two years' service. Until then workers can be dismissed with a week's notice.
At many firms, employees acquire more rights – such as better redundancy terms – the longer they work,
In most cases, going through a fire-and-rehire process should not reset years of service back to zero, says Neil Todd of Thompsons Solicitors.
Long-serving employees should not be treated as new hires if they are dismissed and rehired straight away, or even as late as the following week.