Global Affairs
Wimbledon 2021: Andy Murray on losing to Denis Shapovalov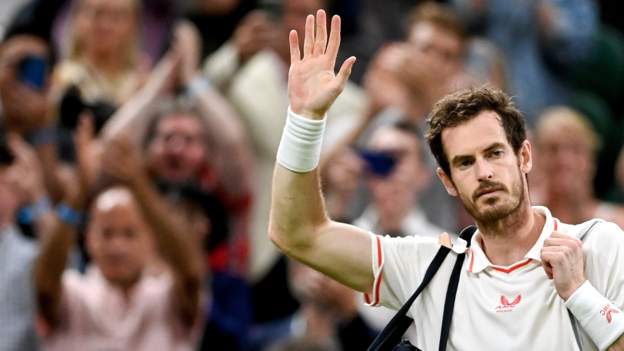 Venue:
All England Club
Dates:
28 June-11 July
Coverage:
Live across BBC TV, radio and online with extensive coverage on BBC iPlayer, Red Button, Connected TVs and mobile app. Full details
here
Andy Murray says he needs to weigh up "if all the hard work is worth it" after an encouraging run at Wimbledon was ended by Canada's Denis Shapovalov.
The 34-year-old Briton, playing only his second tournament in three months after a groin injury, said it was "positive" to get through unscathed.
"The negative is I feel like I can do better tennis-wise, play better and close matches out," he said.
"I need time on the match court and the practice court. I've had neither."
After losing in straight sets to 10th seed Shapovalov in the third round, Murray said he was disappointed to not reach a higher level.
"There is a part of me that feels a bit like I have put in so much work the last three months and ultimately didn't play how I would want and expect, and it's like is it worth it?" said Murray, who will play in the Tokyo Olympics later this month.
"Unless me and my team can find a way of keeping me on the court for a consistent period of time and allow me to practice the way that I need to to compete with these guys, then the discussions about what I do next will come in.
"I'm not expecting and saying I would beat Denis. He's a brilliant player. But I feel like I can do a lot better than I did this evening.
"I'm hoping that providing I can stay on the court consistently for two, three, four months, my tennis will get back to a high level."
After a hip surgery in January 2019 which he thought would end his career, Murray has battled back on to court and even won a title in Antwerp later that year.
However, his progress since has been hampered by pelvic and groin injuries, while he was also ruled out of the Australian Open earlier this year after testing positive for coronavirus.
"I feel like I've been trying a lot the last couple of years since I had the operation and I've never been able to get that much momentum going," said the Scot.
"To be able to compete with guys of Denis's level my game has to be spot on."
In his opening two matches, Murray beat Georgian 24th seed Nikoloz Basilashvili after surviving a wobble and fought back to beat German qualifier Oscar Otte in a dramatic five-setter.
"This week has been really good in some ways, but frustrating too," added the 2013 and 2016 Wimbledon champion.
"I played two long matches and it's really significantly longer than anything I had played in the past six months.
"I feel like I put a lot of work into this and to lose against him is tough. If I am going to put that much effort in I want to be performing much better.
"I got through a week of a Slam without getting injured so that's positive. There were moments of really good tennis mixed in with some really bad moments."
Former Wimbledon champion John McEnroe says he "really hopes" Murray can keep going, while Anne Keothavong – Britain's Billie Jean King Cup captain – says the Scot has "nothing to prove to anyone".
"The way the top guys hit it now, you have to have explosion. If you don't then you're done," seven-time major winner McEnroe said.
"Andy has always been more reactive than proactive and that way of playing is really difficult if you feel like you've lost something, even a half step or quarter step."
Analysis
BBC tennis correspondent Russell Fuller
Murray is entitled to consider The Championships a success, given the groin injury which hampered his preparations.
But that was not the way he saw it in the immediate aftermath of defeat as he questioned how much of an appetite he will have for the sport if injury continues to deny him the time on court he needs.
This was a notable change of tone from a man who has spoken of his desire to play for some time yet, even if the logic is inescapable.
Murray's groin problem is a persistent one. He remains in discomfort four months on, has had to limit his practice sessions and only been able to complete two tournaments in that time.
Wimbledon provided a tantalising glimpse of just how competitive Murray could still be, miraculously, after double hip surgery.
But for that to become a reality, he will need a few months without further interruptions. And that is not something his body has allowed him since the end of 2016.