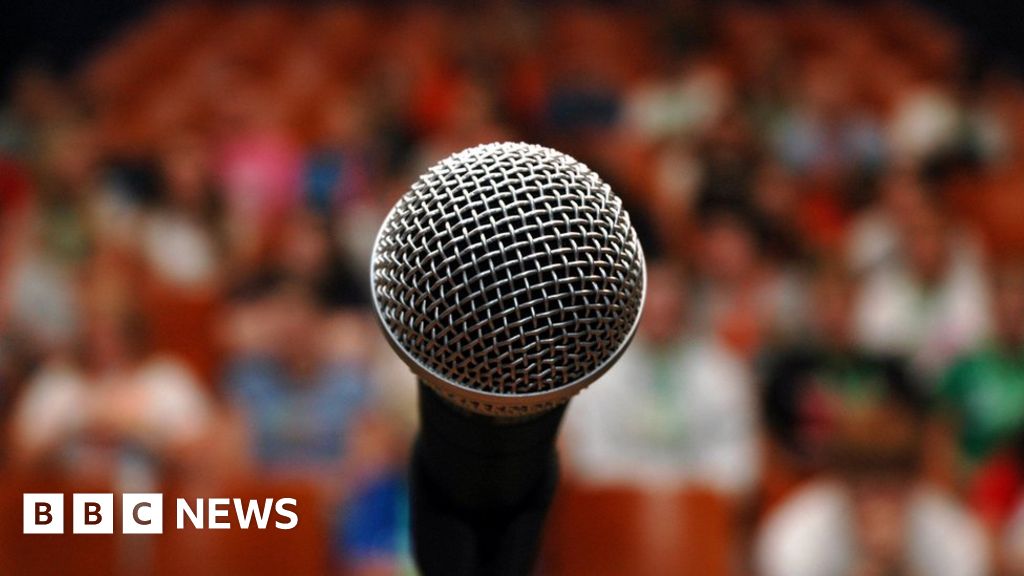 By Justin Parkinson
Political reporter, BBC News
It's conference season for the UK's main political parties. But why do they have them? And what is likely to happen?
What are conferences?
The party political conference is an opportunity for the membership and leaders to get together to discuss ideas, policies and personalities. It's not all work, though, as parties go on late into the night.
The biggest event at each conference is the leader's speech. Usually the event's finale, it helps set the tone for the party for the rest of the political year.
There are also debates and votes at most conferences, but not all.
Are all the conferences this year virtual?
No. Last year, because of Covid, all events were held behind closed doors, with party members contributing and watching only online.
This year, the Liberal Democrats and SNP are sticking to that system, but Labour has just held its conference in Brighton while the Conservatives are heading to Manchester this weekend.
What's the point of conferences?
They provide a shop window, allowing parties to showcase policies, slogans and personalities to a national audience on TV, radio, online and in the press.
But the amount of change achievable at conferences – in terms of policies and direction – varies widely.
The Conservative Party no longer votes on policy at its annual conference, but there are speeches and round-table discussions involving top politicians.
The Lib Dems, by contrast, still set policy via delegate votes, while Labour also holds votes, which inform the leadership's policy decisions.
Here's what we can expect this year (and what's already happened):
Scottish Greens – 7 to 9 October
The party made history in August when it entered government for the first time in a deal with the SNP at Holyrood. Now it is heading to Edinburgh for a face-to-face conference, with options to take part remotely.
Co-leaders Patrick Harvie and Lorna Slater are unlikely to be wasting too much time on celebrations, however, with the vital COP26 climate conference taking place in Glasgow two weeks later.
Green Party of England and Wales – 22 to 24 October
The Greens are in Birmingham for a face-to-face conference, but there will be options for members to take part remotely.
The party's co-leaders Sian Berry and Jonathan Bartley are both bowing out this year, so the event will see the debut speech of a new leadership team – Carla Denyer and Adrian Ramsay.
The new leaders vowed to turn the party into a serious electoral force by winning power at every level, including more MPs.
SNP – End of November
The SNP is planning to hold its annual conference on the final weekend before St Andrew's Day, from 26 to 29 November.
But the dates have yet to be confirmed. It is likely to be a virtual conference, although there are hopes it can be held in person, depending on Covid restrictions.
The party held a virtual get-together in September, where the big themes were climate change (ahead of COP26), next spring's Scottish council elections and the push for Scottish independence.
It took place amid criticism from former leader Alex Salmond, who now heads the Alba Party, who said the independence movement was stuck in "Groundhog Day".
Nicola Sturgeon, who has been SNP leader and Scottish first minister for almost seven years, promised in her speech to keep pushing for a second independence referendum by the end of 2023. Governing in coalition with the Scottish Green Party, she has a majority at Holyrood in favour of this.
But she acknowledged "challenges", including, most importantly, the UK government's vehement opposition.
Completed: Conservatives – 3 to 6 October
Boris Johnson's party met in Manchester, with a fresh line-up of ministers in many key roles, following the PM's reshuffle.
The theme of the week was "levelling up", with Michael Gove, the newly-appointed secretary of state for levelling up, setting out some of his plans in a speech on Monday.
In an upbeat closing speech, packed with jokes but light on policy, Boris Johnson promised to harness the "spirit" of Britain – and claimed the country was heading towards a high-skilled, high-wage future.
There was some unease among MPs in Manchester about a rise in National Insurance to pay for the NHS and social care. the prime minister claimed Margaret Thatcher would have approved, to avoid borrowing.
He also dubbed Mr Gove John Bon Govi, over pictures that emerged of the minister dancing in an Aberdeen night club.
Completed: Labour – 25 to 29 September
Sir Keir Starmer's first in person party conference since becoming leader drew to a close on Wednesday.
In a direct challenge to far-left critics, he used his final-day speech to insist Labour would never again go in to an election without "a serious plan for government".
That was met with a standing ovation from delegates, but he was heckled by some left-wingers.
Sir Keir told those barracking him that he was about "changing lives" not "shouting slogans" and he outlined new policies on mental health, education and housing.
Earlier, he managed to push through rule changes which will have a big effect on how the party elects its leaders and governs itself in the post-Corbyn era.
Mr Corbyn himself was much in evidence at fringe events and Q&A sessions – despite still being suspended from the Parliamentary party.
The former leader publicly backed Andy McDonald, the sole surviving member of his shadow cabinet, who dramatically quit his role on Monday in protest at Sir Keir's leadership and his failure to back a £15-an-hour minimum wage.
After a week dominated by rows with the left, Sir Keir urged activists to come together to beat the Conservatives, at a time when energy bills are rising, petrol supplies are running short and the economy is recovering from the pandemic.
In an attempt to answer demands for policy detail, shadow chancellor Rachel Reeves pledged to spend £28bn a year on greening the economy.
She also promised to scrap business rates but the replacement has yet to be decided.
Completed: Liberal Democrats – 17 to 20 September
Except for a small, filmed gathering in East London's Canary Wharf, the party's members listened and contributed online.
But, a year after beating Layla Moran to the leadership, Sir Ed Davey attempted as much media exposure as possible. The Lib Dems scheduled his speech for the Sunday of conference – as opposed to the more conventional mid-week slot – in the hope of greater coverage on what is usually a "quiet" news day.
Although the Lib Dems have not been riding high in the opinion polls lately, the party scored a notable by-election success in Chesham and Amersham in June, taking a previously solidly Tory seat.
This has buoyed spirits, with one party source telling the BBC the leadership would capitalise on the "bounce" and push to win in more seats in the south of England by wooing young professionals away from the Conservatives.
To this end, Sir Ed promised a £5bn voucher scheme to help parents pay for activities or tutoring for children following disruptions caused by the pandemic.
He also attacked the government's recent decision to raise National Insurance to pay for personal care, deemed unfair on lower-paid working people by the Lib Dem leadership.